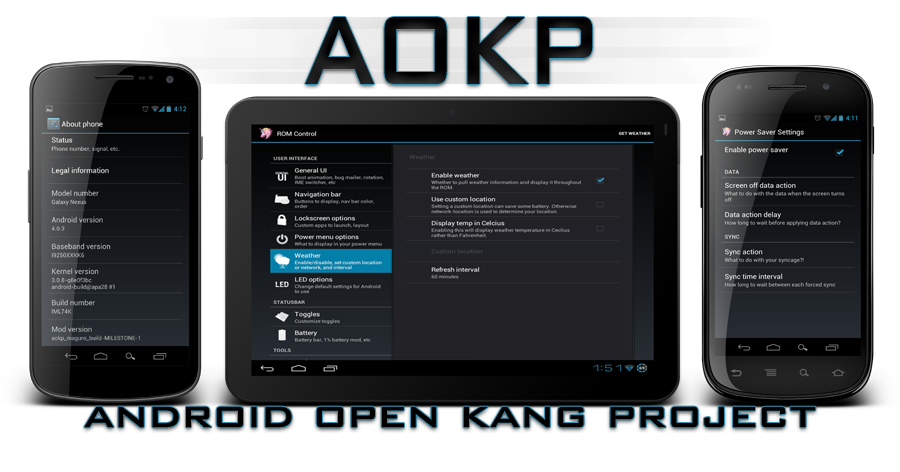 Newest change logs are available at the AOKP site


Make sure you're on the latest CWM
MAKE A NANDROID
wipe data/factory reset in recovery
flash ROM
flash Gapps
flash any recommended script
reboot
Find the latest releases here
Find the old kangs here

The guys spent a lot of time and effort on this one, I just did the porting. Go donate, they're awesome!
Donate to Roman
Donate to Whitehawkx
Donate to Jonathan Grigg
Donate to Zaphod-Beeble
Donate to ProTekk
Donate to CyanogenMod
Check out the ROM source on
github
. Open source, in the spirit of community kangage.
If you'd like to help with AOKP, please don't hesitate to contact Roman or Zaphod on IRC.
Best way to help out or contact us is via IRC: #teamkang@freenode.net
You can also find me on Jabber: k900@neko.im
Ok, done with obligatory AOKP header. Now for device specific stuff.
A little (HWA) FAQ
Q: Will you include HWA?
A: Maybe later I'll be able to setup two builds - one with HWA and one without. However I really have no time to do it, so if anyone wants to step up - you're welcome. I can't give any ETAs but I hope I'll have way more free time in July.

Q: Will you include Aroma installer/other launchers/app2sd scripts?
A: I don't see any reason for that. Maybe if you explain why.
Recommended A2SD script
: mounts2sd 2.2.6
http://www.cxsr.eu/p...php?dir=m2sd%2F
DON'T
use amarullz's data2sdx script. It causes bootloops with the way init.d scripts are handled in AOKP.
Edited by K900, 09 May 2012 - 09:07 AM.