Mod Type:: ROM
Difficulty:: Easy
Mod Base:: AOSP
Mod Status:: Stable
Apply In:: Other (See Description)
Requires Root:: No
Source::
GPL Kernel source: This ROM uses the Asus stock V9.4.2.28 kernel (unmodified) and the sources may be downloaded from here: http://support.asus....TF201&p=20&s=16
Please don't mirror this rom without my permission.
Please don't post links directly to the downloads; If you want to share, share the link to this thread.
Thank You!
Thanks to Romanbb and TeamKang for putting together this awesome rom.
Thanks to the CyanogenMod team for all they do.
Thanks to BuzzBumbleBee for the initial device tree for the Prime (I made a lot of changes to this)
Thanks to konrad1337 and sportsstar89 for sharing all of their work on the TF101. Without their fixes, I couldn't have done this.
Thanks to _motley for his awesome kernel and for just being a good guy!
Thanks to youngnex for giving me a better solution to the CRT animation issue.

I hope I didn't forget anyone but if I did, PM me and I'll add you.

I have added in a few of the Asus widgets and applications like:
Weather Widget
Battery Widget
Email Widget and Email client
MyWater Live Wallpaper
SuperNote
Maybe more that I forgot...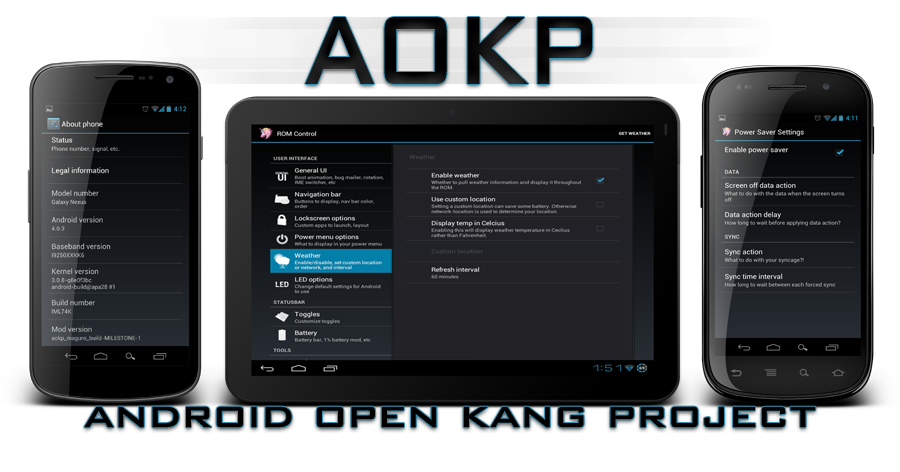 You can usually catch me and other thread members in the #TF201-AOKP IRC channel on irc.freenode.net
Here's a link to the web client: http://webchat.freen...nels=TF201-AOKP - Big Thanks to RubenRybnik for setting this up!!


What doesn't work on Prime:
GPS dongle support is not enabled yet
2 IME icons in tray. Settings-->Rom Control-->General-->Uncheck Show IME and reboot.
No Super IPS+ button (The screen is plenty bright)
User Requests / To do list:
Keyboard key to wake tablet
Fix the 1/2 second black screen that happens on rotate.

MAKE SURE YOU'RE ON THE LATEST TWRP OR CWM RECOVERY (IF YOU DON'T PLEASE DON'T POST ABOUT NOT BEING ABLE TO BOOT BECAUSE YOU'VE BEEN WARNED)!!!!
IF YOU USE TWRP READ THIS POST BEFORE CONTINUING TO AVOID A SOFT BRICK!!!
MAKE A NANDROID
Wipe data/factory reset in recovery
Flash ROM
Flash Gapps
Reboot
If you're installing a new build without wiping, you STILL need to reflash gapps right after flashing the build!!!
Download Milestone 6.1
(Full Wipe Recommended!!)
Download Gapps 4/29/2012
(Restore apps option fixed. GMail is not installed by default)
Download CFQ, Deadline and other Kernel Modules
(CFQ I/O scheduler set by default) (Thanks to saturn_de for compiling the modules)
To change to Deadline (or load other modules):
Edit /system/etc/init.d/97modules
For deadline change:
echo "cfq" > /sys/block/mmcblk0/queue/scheduler
To:
echo "deadline" > /sys/block/mmcblk0/queue/scheduler
To load other modules on startup:
Edit /system/etc/init.d/97modules
Add:
insmod /system/lib/modules/module_name.ko
Look in /system/lib/modules to see the available modules and Google them for info on them
(texfat.ko and tntfs.ko are already loaded by the default rom).
Milestone 6.1 Changelog:
Dock battery icon should disappear/come back instantly
Dock keyboard shortcuts should all work
No black screen on rotation
Changed the CPU modes so that Performance = 1.6GHz and Balanced = 1.4GHz (Reverts to balanced on reboot)
Added reboot to recovery (

YOU MUST HAVE TWRP OR A MODIFIED CWM TO USE THIS!!!!! IF YOU DON'T, DO NOT TRY TO REBOOT TO RECOVERY!!!!

)
Added the TFP version of Polaris Office with no watermark.
YouTube, Hulu+, etc. will now show up in the market.
Updated to the Asus 9.4.2.28 kernel.
Plus all of the AOKP base fixes and additions that will be listed later.
AOKP Source Code

We spend countless of hours doing this for next to nothing. Posts, views, and donations encourage me, and everyone else who helps out.
Team Kang (Original Rom Creators)
Donate to Roman
Donate to Whitehawkx
Donate to Jonathan Grigg
Donate to Zaphod-Beeble
Donate to ProTekk
Jermaine151 (Rom porter for the Transformer Prime)
Donate to Jermaine151
Every donation is cherished and loved.
Milestone 6.1 install video by wwjoshdew:
http://www.youtube.com/watch?v=Z0QHLryVBpE&hd=1
Edited by jermaine151, 14 August 2012 - 07:34 AM.